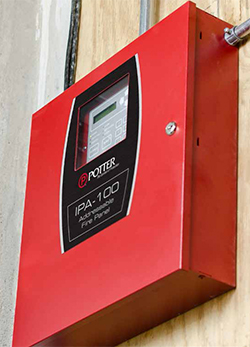 Potter Fire Panels and Devices
Potter Fire Panels and Devices Backed by a 5-year warranty, Potter Fire Alarm panels provide industry leading technology. The new Facility Management software allows for unlimited capabilities of monitoring devices and sites. Each panel has highly technical software that allows for a true turnkey solution for each individual installation. The IPA series panel meets or exceeds the panel specifications for other well-known Fire Alarm manufacturers.
With today's ever-expanding means of communication, it's important to be able to incorporate the same technology into your fire control system. Potter fire signal took this technology into account when we designed IP connectivity within their new fire panels.
By eliminating the cost of phone lines, Potter fire signal helps you save big when using your building's existing network infrastructure. Additionally, the speed of IP communication allows for event information to be sent to the central station within seconds.
For more information on the Potter control panels please see: Potter Brochure

Phone

Our Hours
24/7 Emergency Service | 2 Hour Response Time
Office Hours:
Monday - Friday
7:30am - 4:00pm