Fire Extinguisher Service in Dayton, OH
Contact ePro today for full service fire extinguisher inspection and ensure the safety of your property!
Full Service Fire Extinguisher Inspection!
ePro Services is a full-service fire protection company serving Columbus, Cincinnati, Cleveland, Dayton and Springfield businesses. We carry the experience and knowledge, as well as the facilities, to provide comprehensive fire extinguisher inspection services.
Fires are no one's friend. When they happen, they can leave devastation behind that may take days, weeks or even months to repair. The good news is that fire extinguishers act as a reactive form of fire protection, and as a preventative solution for smaller fires. If installations are done properly, they can help make sure your business is protected. Get fire inspection in Dayton, now!
Only a certified fire extinguisher inspector can determine the cause of a malfunction, and inform you of any potential damage to your property and risk to your employees. At ePro Services we're proud to be able to offer our customers the highest level of service and the most qualified inspectors in the area. Our inspectors undergo extensive training and must meet strict standards before they're allowed to provide fire extinguisher inspection services. We care about both you and your property, so we give you options. In addition to our complete fire extinguisher inspection, we also provide a half-service option that will take less time and cost less.
NFPA Certified Fire Inspection Services
NFPA standards require a current fire extinguisher inspection to be performed on every commercial establishment in Dayton, Ohio on an annual basis. With ePro Services, you can maintain compliance. Our fire inspection services in Dayton provide an extensive fire extinguisher inspection program, including everything from on-site training, visual inspections of all portable and fixed fire protection appliances (including but not limited to sprinkler systems and automatic fire suppression systems), and certification.
Dayton building owners who have fire safety on their mind should take additional steps beyond compliance with local regulations. Fire extinguishers located on the premises of their business should be inspected. These will include visual checks for signs of obvious damage, tag checks, and pressure/charge checks. This is insufficient alone however. Dedicated staff or maintenance team members should be hired to carry out these simple yet important monthly inspections themselves.
ePro Services performs fire extinguisher service, inspection and maintenance with a personal touch, ensuring your fire extinguishers are in working order and in compliance with the latest National Fire Protection Agency (NFPA) recommendations. We also offer inspections that meet the new NFPA Standard for Fire Extinguishers . With ePro Services, you can rest assured knowing that your fire protection systems and fire extinguishers will be in tip-top shape when an emergency occurs.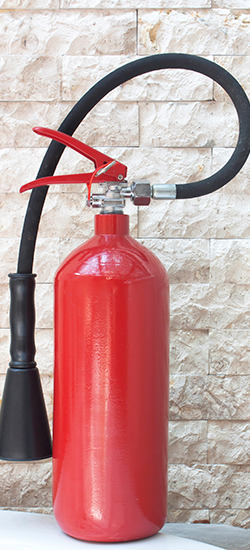 Top-Quality Fire Extinguisher Inspection in Dayton, OH
Protect Your Business from Fire Hazards with Eproserv's Top-Quality Fire Extinguisher Inspection in Dayton, OH
Protecting your business from fire is crucial to keeping your employees, customers, and property safe. That's why it's important to have a reliable fire extinguisher inspection service in Dayton, OH.
At Eproserv, we are committed to providing top-quality fire extinguisher inspections for businesses of all sizes. Our experienced technicians will thoroughly inspect your extinguishers to ensure they are up to code and ready for use in the event of a fire.
We understand that every business has unique needs, which is why we offer customized inspection plans to fit your specific requirements. We use the latest technology and equipment to perform our inspections, so you can be confident that your fire extinguishers are in good hands.
In addition to our inspection services, we also provide maintenance and repair services to keep your extinguishers in top condition. We will work with you to develop a regular maintenance schedule to ensure that your extinguishers are always ready for use.
At Eproserv, we take pride in providing exceptional customer service and exceeding our clients' expectations. We understand the importance of a safe work environment and are dedicated to helping businesses in Columbus, OH, achieve just that.
Don't wait until it's too late to ensure the safety of your employees and property. Contact us today to schedule your fire extinguisher inspection with Eproserv, the trusted name in fire protection.
10 Reasons Why Your Business Needs a Fire Extinguisher Inspections
Don't Risk Fire Hazards - Get Your Fire Extinguisher Inspected Today in Dayton, OH!
Comply with Local Regulations: Regular fire extinguisher inspections are required by law in Dayton, OH, and failing to comply with these regulations can result in hefty fines.

Ensure Fire Safety: A properly inspected and maintained fire extinguisher can be the difference between a small fire and a devastating blaze. Inspections help ensure that your extinguisher is functioning correctly and ready for use in an emergency.

Protect Your Employees: In the event of a fire, the safety of your employees is paramount. Having a properly maintained fire extinguisher on hand can help keep them safe and prevent injuries.

Protect Your Property: Fire can cause extensive damage to property and can be costly to repair. A functioning fire extinguisher can help minimize the damage and save you money in the long run.

Reduce Insurance Premiums: Many insurance providers offer reduced premiums to businesses that have regular fire extinguisher inspections and maintenance programs in place.

Avoid Business Interruption: A fire can cause significant disruptions to your business, including downtime, lost revenue, and potential damage to equipment and inventory. Inspections can help prevent these interruptions.

Improve Business Reputation: Investing in fire safety and ensuring that your employees and property are protected can help improve your business's reputation and show that you take safety seriously.

Save Lives: Fire extinguishers can be life-saving devices, and having them properly inspected and maintained can mean the difference between life and death in an emergency.

Peace of Mind: Knowing that your fire extinguishers are functioning correctly and that your business is well-protected against fire can give you peace of mind and allow you to focus on your day-to-day operations.

Professional Inspection: A professional fire extinguisher inspection in Columbus, OH, can provide you with expert advice and recommendations for improving your fire safety protocols and reducing potential hazards.
Fire Inspection Dayton, OH
Average rating:
0 reviews