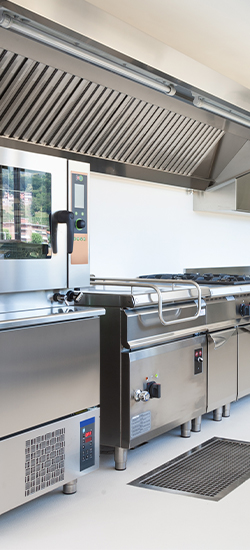 Kitchen Hood Design and Inspection
Kitchen hood fire suppression systems are required to be inspected on a semi-annual basis as a minimum requirement of NFPA 17A and the Ohio Fire code. Our highly trained technicians can inspect and service all types of kitchen hood fire suppression systems.

Deficiencies will be noted during the inspection/test. Those that can be corrected immediately by the inspector, will be corrected and documented on the inspection/testing form. Proposals will be issued within 24 hours for those deficiencies needing repair.

Our software system will keep a record of when inspections are due so you never have to worry about being delinquent on required inspections. We can also provide training in the proper use and maintenance of your system so in a fire situation everyone will be prepared to respond appropriately.

"Peace of mind at reasonable cost, delivered by People who care" is the foundation of our customer service.

Phone

Our Hours
24/7 Emergency Service | 2 Hour Response Time
Office Hours:
Monday - Friday
7:30am - 4:00pm